Our Grand Avenue
Take a Tour
Love Our Trees Tour of the 2400 block of Mass
Our first Love our Trees walking tour was held at lunchtime May 24. Featured were trees planted through our program in the 2400 block of Mass Ave and Emmet Park – the federal triangle park along Mass between 24 and S Streets.
Magnificent row of lindens by Vatican Embassy
Enjoy the peaceful, park-like setting of the Apostolic Nunciature of the Holy See at 3339 Massachusetts Avenue (corner of  34 Street). Take in the row of majestic American linden trees, planted about 1904, which the Vatican staff have nourished for decades. Above we show the trees in early spring, before leaf-out, so you can see their magnificent interlocked forms.
When a fence was proposed in 2015 to run among these trees' roots by the sidewalk, Restore Mass Ave provided expert advice regarding tree protection.  The fence plan was withdrawn for many reasons and  security was accomplished by other means.  So this elegant, welcoming landscape — friendly to people and the wildlife thriving in these trees — was preserved.
20 Street allée by Metro Red Line exit
A new allée of trees frames the sidewalk on the east side of 20 Street between the Metro exit and Mass Ave. Opposite the sidewalk trees in 2008 we planted a second row of five northern red oaks. PNC Bank maintains all these trees for the enjoyment of thousands who pass there.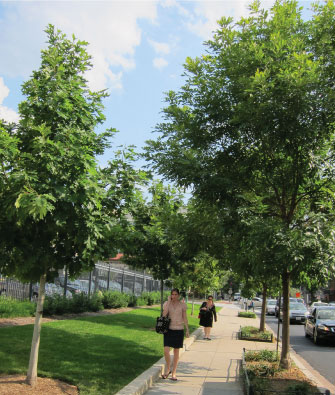 Emerging allée on 20 St between Q St and Mass Ave