Our Grand Avenue
Dupont Tree Plaza
Our vision
The barren city sidewalk on Massachusetts Avenue by the PNC Bank Dupont Circle branch must be transformed into a shaded and inviting community space.
Below is our vision of a new Tree Plaza to connect the park in Dupont Circle to the emerging tree alleés of Mass Ave. (Pictures and plan by Leo A Daly)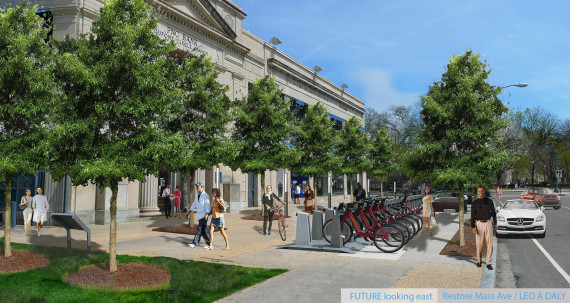 Restore Mass Ave tried for years to get a city agency to take on renovating this 7,100 square feet of public sidewalk by planting trees, but to no avail. Others whom RMA briefed were in favor, such as the President of PNC Bank which adjoins the site.  A growing list of community leaders support the RMA plan.
RMA must create growing space for trees there, first, because our core mission is extending tree canopy.  Second, the site is the real start of Embassy Row. A huge private "castle" built there in 1873 kicked off the trend for imposing residences and created the original Grand Avenue. (See our book A Grand Avenue Revival.)  In future, as the rows of trees we're growing on Mass Ave to the west mature, we'll need an inviting place to start eco-tours.
Designgreen hired to figure getting it done
So we've contracted with Designgreen LLC, a firm expert in green engineering, to investigate the site and seek funding to design and build the Tree Plaza with public or private funds.
"This is a wonderful location to showcase a sustainable green retrofit," says Rebecca C. Stack, the Designgreen principal. "It is vital to take advantage of the site's visibility to raise awareness linking trees, water, and liveability through an inviting, shaded community space."
Ms. Stack is an environmental engineer with more than 15 years of experience in ecosystem engineering and watershed planning. She specialized in stormwater management rules and design for eight years at DC Department of Energy and Environment.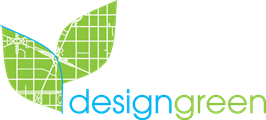 Her firm provides technical support for integrating sustainable landscape into urban areas.  (A "green retrofit" is the new planting space around a large tree where Rhode Island Avenue and M Street merge on the west side of Connecticut Avenue.)
Why the site is vital to our city
The sidewalk expanse where Mass Ave meets Dupont Circle has been neglected for decades. It has a bank entrance and ATM and the closed entrance to the old trolley tunnel.
Yet thousands of workers, residents and tourists walk there daily. The Capital Bikeshare station is one of three busiest in the city. Steps away is the Metro Red Line Dupont North exit, used by 10,500 riders each weekday. At least 18,000 vehicles pass daily spewing exhaust. Ground level air is hot and hard to breathe even in mild weather.
A number of city agencies make grants to local groups to retrofit paved areas to lessen storm runoff into city drains and rivers.  The District needs to capture more stormwater and cool ground-level air in order to meet federal water and air standards.  RMA's Tree Plaza project likely qualifies for such funding.
Many scenarios are possible for design and building of the Tree Plaza. Ms. Stack of Designgreen also says that, to carry out the project, RMA could engage partners with experience in green retrofits.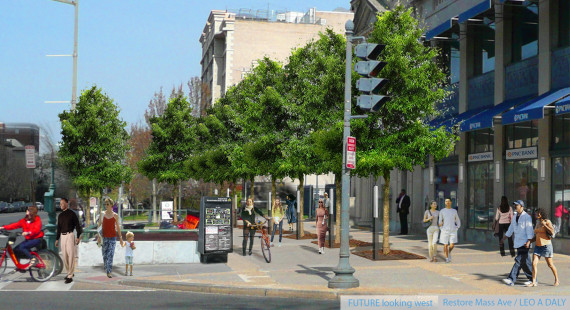 The Leo A Daly firm (whose office is at 1201 Connecticut Avenue) assessed the space and made a site plan showing there could be space for nine additional trees, after good soil and rooting space are provided.
More on the 2015 plan is at our Tree Plaza Press Release.
"Our Tree Plaza vision symbolizes what everybody says they want for Washington: making it again the City of Trees," says Deborah Shapley, RMA President. "We welcome Designgreen as the catalyst who can figure out how to realize our vision."
Site is critical to our Grand Avenue
The two miles of Massachusetts Avenue from Dupont Circle westward, is perhaps the last intact Grand Avenue streetscape in the nation (see Why Restore Mass Ave). In nine years RMA arranged planting and care for >350 trees to regrow this landscape of large trees arching over shaded, inviting sidewalks.
Here, in 1873, William Morris Stewart, a hugely wealthy Nevada senator, built a "castle," though the area was but swamp and woods. Yet "Stewart's Folly" launched the first wave of mansion-building, such as the Blaine mansion at 2000 Mass (1880) and the Bryan home at 2027 Mass (1895). The city created a stately venue for carriages and pedestrians by planting double rows of linden trees; see shown in the 1880 planting map, Figure 4,  in A Grand Avenue Revival, our award-winning book.
Join our coalition
Email us at treeplaza@restoremassave.org to comment or join a Dupont Tree Plaza Coalition. If you're sick of trudging across a bare heat island when going to and from Metro, renting a bike, or doing retail business there, contact us to make a better city.