Our Grand Avenue
Dupont Tree Plaza
Our vision
The barren city sidewalk on Massachusetts Avenue by the PNC Bank Dupont Circle branch could be transformed into a shaded and inviting community space, if only DC government would act.
The images below show our vision of a new Tree Plaza to connect the park in Dupont Circle to the emerging tree alleés of Massachusetts Avenue which Restore Mass Ave has been growing since 2006. RMA commissioned the renderings from Leo A Daly, the international architecture firm, based on a draft site plan below on this page.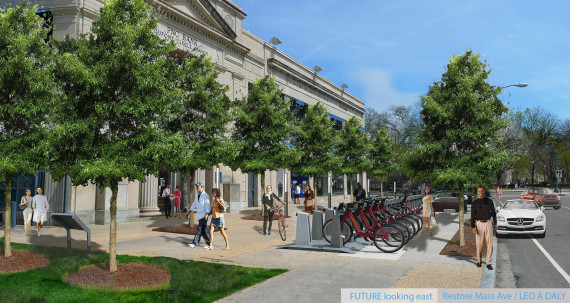 The 7,100 square foot sidewalk, which is entirely DC land, now has a bank entrance and ATM, a future entrance of Dupont Underground and the city's busiest Capital Bikeshares station – but only two small trees. RMA has proposed that the Urban Forestry Administration of the DC Department of Transportation plant trees there, but to no avail.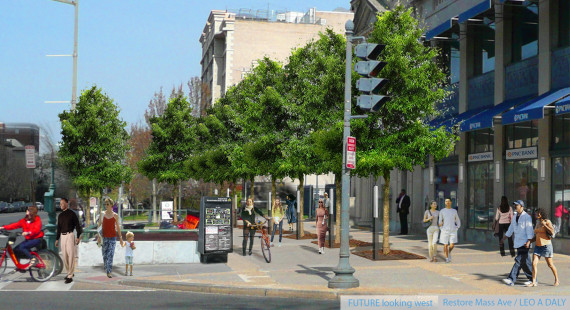 "Around the city, the DC government is replacing paved areas with trees and plantings to make civic spaces more inviting and to soak up stormwater and comply with the Clean Water Act," said Marty I. Scherr, a member of the RMA Board of Directors. "I am amazed that the city has no such plan for one of the most popular intersections in the District."
Expand DC's tree canopy with nine shade trees
The Leo A Daly firm (whose office is nearby at 1201 Connecticut Avenue) assessed the space and made a site plan showing there could be space for nine additional trees, after good soil and rooting space are provided.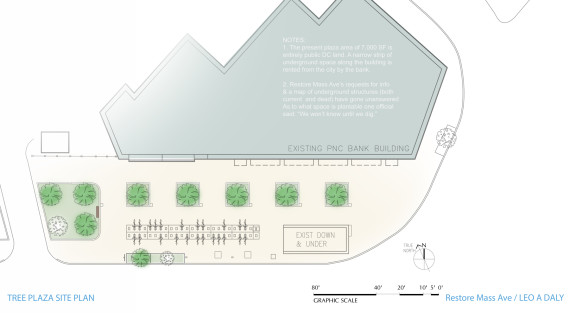 The plan could be carried out in two phases, said RMA President Deborah Shapley.  "The UFA could do Phase One now, by expanding the little lawn by the parking lot entrance and planting three more shade trees." In the second phase, the city needs to dig up the sidewalk to remove unused infrastructure and create good soil and rooting space.  For more on the plan – and the obstacles ahead – see our Tree Plaza Press Release.
"These changes will symbolize what everybody says they want for Washington: its transformation back to being the City of Trees," said Shapley.
Goal: create community
With green redesign, this critical intersection — now ugly, unsafe and uncared for — could become a friendly community space. Workers, retailers, students, tourists and embassy personnel will want to linger there.
A huge obstacle has been city, business and neighborhood  "stovepipes." But since 2006, RMA  has been bringing disparate parties together to plant and sustain trees, we at RMA believe the discussion now begun can bring about change.
Join our coalition
"The Tree Plaza plan proposed by Restore Mass Ave supports PNC's focus on sustainability, the environment and community," says Michael N. Harreld, regional president of PNC Bank. "We urge other businesses and the city to support this plan."
Dupont Circle leaders got a sneak peek at the Concept Plan at a meeting hosted by Embassy Row Hotel, and were generally in support.
Email us at treeplaza@restoremassave.org to comment or join a Dupont Tree Plaza Coalition. If you're sick of trudging across a bare heat island when going to and from Metro, renting a bike, or doing retail business there, YOU CAN ACT to make a better city.
Site is critical to restoring our "Grand Avenue"
The two miles of Massachusetts Avenue from Dupont Circle westward, is perhaps the last intact "Grand Avenue" streetscape in the nation (see Why Restore Mass Ave). In six years RMA arranged planting and care for >330 trees to regrow this landscape of large trees arching over shaded, inviting sidewalks. The rows of red oak are forming allées along 20 Street; we planted in 2008 with Casey Trees and PNC Bank.
In Phase One – the expanded lawn with four trees – RMA plans an all-weather sign, shown at left in the top rendering on this page.
This site must anchor the restored Grand Avenue; RMA seeks an all-weather sign under the trees at left, in Phase One, to teach about the landscape legacy and as a starting point for tours. RMA needs an all-weather sign about this important cultural landscape, as the starting point for audio tours; (shown on the left in the top rendering).
Here, in 1873, William Morris Stewart, a hugely wealthy Nevada senator, built a "castle," though the area was but swamp and woods. Yet "Stewart's Folly" launched the first wave of mansion-building, such as the Blaine mansion at 2000 Mass (1880) and the Bryan home at 2027 Mass (1895). The city created a stately venue for carriages and pedestrians by planting double rows of linden trees; see shown in the 1880 planting map, Figure 4,  in A Grand Avenue Revival, our award-winning book.