Events, Plantings & News
Our 10th Birthday Party at Haiti Embassy
Where better to celebrate our 10th birthday than at a famous address at the heart of Embassy Row?  The Embassy of Haiti, at 2311 Massachusetts Avenue, has helped us grow trees ever since our first summer, when we borrowed their hose and water supply to nourish new linden trees nearby. Today those trees are doing well; so are hundreds of others because of such assistance along the Avenue.
We're honored that His Excellency Paul G. Altidor, Ambassador of the Republic of Haiti, will welcome our friends to the Embassy with an Haitian-themed reception on Wednesday, May 10, 6:30 – 8:30pm.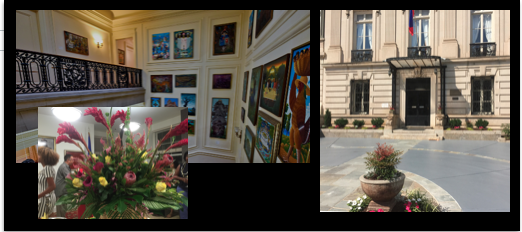 The Embassy has undergone substantial renovation in recent years. It has improved its limited green space beautifully, including a Jardins de l'Ambassade in the rear patio. Haitian art is featured indoors and out.
The Chancery restoration is part of Haiti's commitment to preserving its iconic landmarks at home and its identity as the first black republic in the world.
2311 Massachusetts Avenue was designed in 1909 by Nathan C. Wyeth, a renowned Beaux Arts-trained architect, for financier Gibson Fahnestock. The restored Louis XVI exterior and interior – and private collection of Haitian artists displayed – charm everyone who passes through its regal doors.
On the 10th anniversary of our first tree plantings – which were very close by – the RMA Board of Directors is grateful to our many friends and delighted to honor them this way.
2017 Benefit Committee
Ellen and Robert Bennett, Co-Chairs
Chris Addison & Sylvia Ripley
Bobbie Brewster
Louis & Bonnie Cohen
Brian & Lucy Conboy
Nancy M. Folger
Jonathan Gossens
John & Ingola Hodges
Hugh Newell Jacobsen & Simon Jacobsen
George & Kristen Lund
Isaiah G. Martin III & Ellen Fishwick Martin
Patrick & Kim Nettles
Elizabeth & David Wilson
Delores E. Wolf
Eleanore Wotherspoon
       John & Jeanett Yonemoto
You are Invited to the Celebration!
Purchase Tickets
You can purchase tickets to the event online ».
Ticket prices:
Honorary Arborist (includes two places): $1,000
Tree Planter (includes two places): $500
Couple (includes two places): $300
Individual (includes one place): $150
If you do not wish to register online, you can mail a check to the following address. Please be sure to specify the names of attendees.
Restore Mass Ave
2500 Massachusetts Avenue, NW, #6
Washington, DC 20008
Questions?
Contact info@restoremassave.org with questions including matching gifts and opportunities to sponsor RMA projects.
About Past Benefits and Events
Please visit our 2015 Benefit page for info about this event, which was covered in Washington Life and The Georgetowner.   Past events are also at Events Archive.