Events, Plantings & News
2015 Benefit Hosted by Netherlands Ambassador
The Netherlands Ambassador, H.E. Rudolph Bekink, and Mrs. Gabrielle de Kuyper Bekink hosted a cocktail reception to honor Restore Mass Ave at the Ambassadorial Residence on May 7.  Their stunning, Renaissance-style mansion overlooks S and 24th Streets and the federal triangle park on Massachusetts Avenue dedicated to Irish patriot Robert Emmet.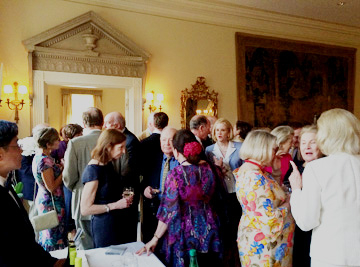 The event was covered in Washington Life and The Georgetowner. Photo gallery is below.
Special thanks go to John Peters Irelan, Benefit Chairman, who did so much to make it a huge success.  Those who came donated; so did others who could not attend, as it was a busy May evening.  Key supporters:
Honorary Arborists ($1,000)
Robert & Ellen Bennett    Mrs. Eugene B. Casey
Bobbie Brewster    Robert & Mary Haft
Tree Planters ($500)
Sanders & Sally Berk        Marcia Mayo
Melinda Bieber & Norman Pozez        Kim & Patrick Nettles
Bonnie & Louis Cohen        Dan & Irina Rapoport
Carole Feld & David C. Levy        Delores E. Wolf
C. Boyden Gray        John & Jeanett Yonemoto
Photos are Jillian Fishman/RMA unless otherwise noted.

 2013 Benefit
Our April, 2013 Benefit was hosted by Her Excellency Muni Figueres, Ambassador of Costa Rica, at her elegant Residence at 2324 Massachusetts Avenue.  This event was helped by our first-ever Benefit Committee and two corporate sponsors. See coverage in Washington Life.
2013 Benefit Committee
Darryl W. Carter        Patrick & Kim Nettles
Nancy M. Folger & Sidney Werkman       Sylvia Ripley & Chris Addison
John Peters Irelan       Mark J. Scott
Hugh Newell Jacobsen & Simon Jacobsen       John & Jeanett Yonemoto
2013 Sponsors
Alex Venditti / Sotheby's International Realty    The Northern Trust Company